Any football is better than none at all.
The schedule this week might be weak, but it does feature the first ranked-against-ranked game of the season. No. 17 Miami and No. 18 Louisville will take center stage Saturday in primetime to cap a day of 21 FBS games.
We shouldn't quite throw away the day, either. Upsets happen, particularly in these weird times. Sun Belt teams were 3-0 on the road last week against the Big 12, including Louisiana's upset of nationally-ranked Iowa State.
Might we see another round of upsets this week? Let's take a look at some of the more interesting games on tap, along with some of the most interesting storylines to follow on the final Saturday before the SEC joins the fray and opens its season next week with all 14 of its teams in action.
A quick turnaround for a delayed debut
Unlike its Big 12 brethren, Baylor avoided the curse of the Sun Belt last week.
Baylor's game against Louisiana Tech was canceled due to a COVID-19 outbreak among the Bulldogs, who were spread out across the southeast instead of campus due to Hurricane Laura. The Big 12 went 0-3 against the Sun Belt, with Kansas, Kansas State and nationally-ranked Iowa State falling to teams from the Group of 5 conference. On the same day Baylor was supposed to open the season, the Bears' athletics department found a replacement in the span of 24 hours: Houston. With less than one week to prepare, the teams will face off in Waco, Texas at noon.
How strange is this matchup? It took less than one day to schedule, but that's life in a pandemic.
"When I was growing up, I was a big baseball card collector," Baylor coach Dave Aranda said. "So, it was really important that I have a Ken Griffey Jr. rookie card. Even before that, like here's a George Brett or here's a Fernando Valenzuela. And it just felt like as we were going through this process of like, 'Hey, I've got a Steve Sax, can I trade you for a Steve Marshall?' It just felt like we were trading baseball cards a little bit. That was just very weird for me. And I'm glad that it worked out."
If that's not enough, this is Aranda's debut as head coach. Aranda's task is rather large, too. He has to replace an entire defense that was among the nation's best (16th in scoring) and helped the Bears to an 11-win season in 2019. The offense is in good hands with Charlie Brewer returning at quarterback after throwing for 3,100 yards and 21 touchdowns against seven interceptions.
Tidbits: Baylor and Houston have not met since the final days of the Southwest Conference in 1995. … Baylor is a 4-point favorite. … Twenty-six of 52 players on Houston's depth chart joined the program since Dana Holgorsen was hired as the head coach in January 2019.
Houston at Baylor
When: Saturday, Noon ET
Where: McLane Stadium in Waco, Texas
TV: FOX
Target now on Ragin' Cajuns' back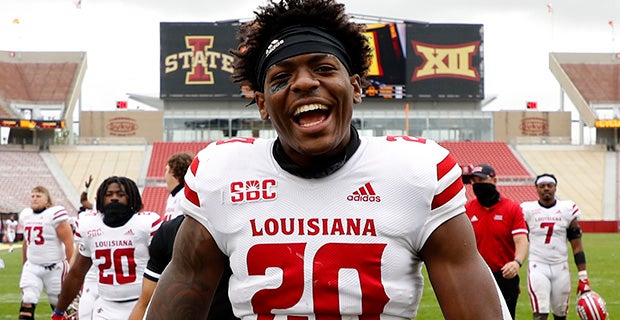 No. 19 Louisiana enters a game as a nationally-ranked team for the first time since 1943. Time to celebrate as heavy favorite this week, right?
The Ragin' Cajuns drilled nationally-ranked Iowa State 31-14 with the help of two special teams touchdowns on the road last week and enter a trip to Georgia State as 15 1/2-point favorites on the road.
At least nine Louisiana players will miss the game due to COVID-19 protocols. Only one starter is missing from the depth chart — cornerback A.J. Washington, who picked off a pass against Iowa State last week — heading into kickoff Saturday, according to The Advocate.
Tidbit: No. 19 Louisiana's trip to Atlanta is part of a strange weekend in the Peach State. Saturday features two ranked college football teams playing in non-neutral site games on the same day in Atlanta for the first time since 2014. No. 14 UCF plays at Georgia Tech later in the afternoon.
No. 19 Louisiana at Georgia State
When: Saturday, Noon ET
Where: Center Parc Credit Union Stadium in Atlanta
TV: ESPN2
Georgia Tech looking for more swag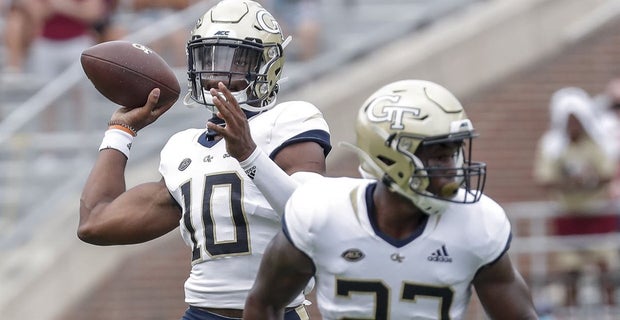 Georgia Tech grabbed the nation's attention last week. Can the Yellow Jackets do it again?
Georgia Tech returns to Atlanta for its home opener against No. 14 UCF a week after upsetting Florida State in Tallahassee. This one might be a bit tougher, especially considering how well the Golden Knights' offense was last season (second nationally behind LSU).
Still, Georgia Tech is one of the stories of the week after rallying to beat Florida State 16-13. Freshman quarterback Jeff Sims, who was once committed to Florida State, threw for 2777 yards and a touchdown in the victory against the Seminoles. Can he do it against a much better UCF team? Georgia Tech enters Saturday as a 7 1/2-point underdog at home.
Meanwhile, UCF opens the season with hopes of being the first Group of 5 program to crash the College Football Playoff. Quarterback Dillon Gabriel ranked 12th nationally in passing yards (3,653) and efficiency (156.9) in 2019 and averaged 15.5 yards per completion to rank fourth. Now a sophomore, and with three of the top four running backs from last season returning, the Knights don't expect to miss a step offensively, even against an impressive Tech defense.
Tidbits: Georgia Tech is 3-0 against UCF, but the programs have not met since 2000. … Georgia Tech and UCF were scheduled to play in Orlando in 2017 but the game was canceled due to Hurricane Irma. UCF will host the Yellow Jackets in 2022.
No. 14 UCF at Georgia Tech
When: Saturday, 3:30 p.m. ET
Where: Bobby Dodd Stadium in Atlanta
TV: ABC
Contenders or pretenders?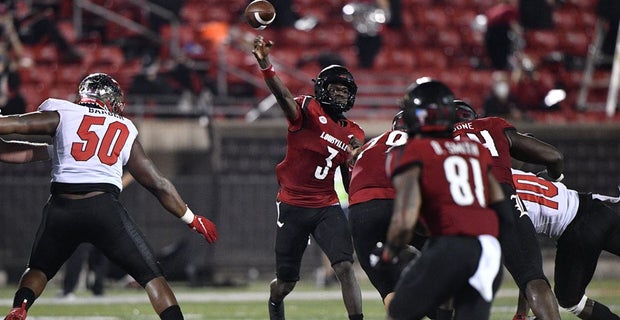 The first ranked-against-ranked matchup of the season is also the game of the week, even if it's between two teams expected to finish at or near the middle of the pack in the ACC.
The crazy thing is we don't quite know where No. 18 Louisville and No. 17 Miami stand entering the matchup at Cardinal Stadium. Louisville found success through the air with Micale Cunningham throwing a career-high 343 yards and three touchdowns in a 35-21 victory against Western Kentucky last week. Meanwhile, Miami dominated the ground with 337 yards in a 31-14 victory against UAB, the most against an FBS foe since 2014.
Houston transfer D'Eriq King has provided Miami with an immediate upgrade at quarterback, but results were still mixed. Miami's receivers weren't quite consistent and King threw for 141 yards, but if that ground game with three of the better running backs in the conference (led by Cam'Ron Harris) continue to power the zone-read offense, the Hurricanes could walk out of Louisville with a big early-season win.
"He is hard to contain, then you couple that with their running backs," Louisville coach Scott Satterfield said. "They do not have just one running back, they have several running backs that I think are very explosive runners."
Tidbits: Louisville is 3-8 in ranked-against-ranked matchups in the regular season. … Miami leads the Power 5 with an average of 1.95 turnovers forced per game since 2017.
No. 17 Miami at No. 18 Louisville
When: Saturday, 7:30 p.m. ET
Where: Cardinal Stadium in Louisville
TV: ABC
Oklahoma State finally hits the field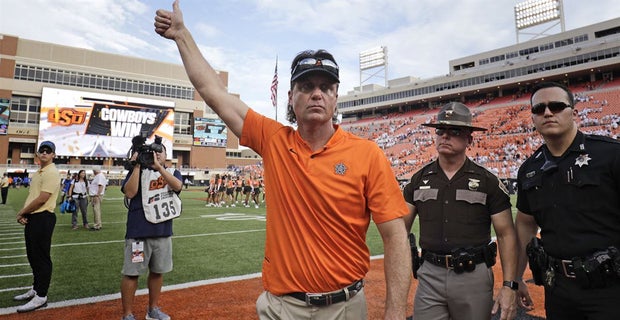 We know No. 11 Oklahoma State's running game could be spectacular, but will the passing offense become the threat we've come to expect over the years in Stillwater?
The Cowboys ranked 71st nationally and eighth in the 10-team Big 12 in passing yards per game in 2019. The hope and belief is Oklahoma State's offense will click through the air again with sophomore Spencer Sanders at quarterback. He threw for 2,0675 yards and 16 touchdowns against 11 interceptions last season and needs to improve with the help of his receivers, particularly with Tylan Wallace back on the roster. The preseason All-American missed the final five games of the 2019 season with a torn ACL, so how will he respond this season? Will the knee affect him physically or mentally?
Meanwhile, Chuba Hubbard shouldn't be a question. The nation's leading rusher in 2019 picked up 2,094 yards and 21 touchdowns last season.
It's been a long offseason for all of college football, especially at Oklahoma State. Off-the-field drama with coach Mike Gundy dominated national headlines in the summer and then a one-week postponement to the season due to COVID-19 concerns will come to an end, finally, one week later than eight other Big 12 programs.
"We've tried to push forward, we've tried to push hard, dealing with the emotions of the players, continual practice with no games has been much different," Gundy said this week. "We've pushed hard and continued to do everything we can to try to get our players in a position to where they can play an up-tempo, physical game to start the season."
Tidbits: Oklahoma State has won 24 straight home openers, the longest streak in school history. … The nine starters returning to Tulsa's offense accounted for 100 percent of the total offense in 2019.
Tulsa at No. 11 Oklahoma State
When: Saturday, Noon ET
Where: Boone Pickens Stadium in Stillwater, Oklahoma
TV: ESPN