The Sacramento Kings and Rajon Rondo both spent the last year spiraling out of control at different times, which makes the former the perfect place for the latter to try resurrecting his career. He'll attempt to do exactly that after agreeing to a one-year deal, as first reported by Yahoo Sports' Marc J. Spears:
Rajon Rondo to sign one-year, $10 million deal with Kings, source told Yahoo

— Marc J. Spears (@SpearsNBAYahoo) July 3, 2015
Just months ago, the Kings had managed to hire George Karl, who was sure to milk plenty of greatness out of DeMarcus Cousins. But after the "will they, won't they" trade saga centered around, well, the center, nothing is certain anymore.
Vlade Divac is running the show in the front office and getting fleeced by the Philadelphia 76ers, and free agents are consistently turning down extra money from the Kings to go play elsewhere, as Bleacher Report's Bryan Toporek and CBSSports.com's Ken Berger noted:
Wes Matthews turned down a FOUR-YEAR, $64 MILLION offer from the Kings? They are radioactive right now.

— Bryan Toporek (@btoporek) July 3, 2015
Ellis chose the Pacers over the Kings, who offered about $4.3 million more, source says.

— Ken Berger (@KBergCBS) July 2, 2015
But Rondo has no such luxury. If anything, his career has been even more disastrous during the last calendar year.
Flash back to last offseason and the talented distributor was still expected to run the show for the Boston Celtics, helping Marcus Smart grow during his rookie season but still serving as the Beantown star.
Since then, he's been traded to the Dallas Mavericks, forgot how to shoot free throws with anything that even resembled consistency and left during the first-round playoffs series against the Houston Rockets with a "back injury."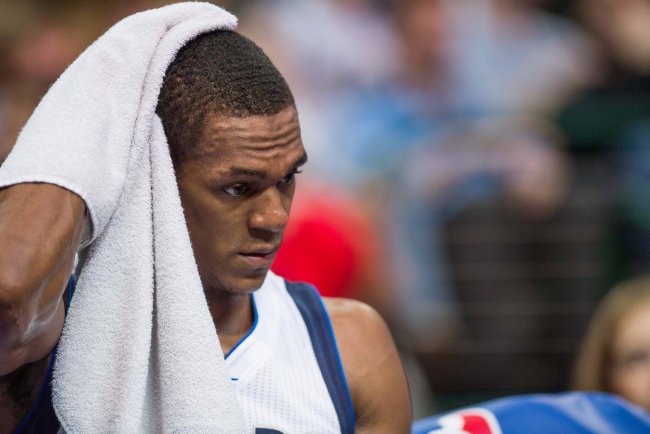 Jerome Miron-USA TODAY Sports
Turns out, that injury was actually a fake malady, one meant to distance him from the rest of the struggling team. As ESPNDallas.com's Tim MacMahon reported, the decision to spend time apart was a mutual one:
Rondo never really fit with the Mavs, as the concerns about the impact of his poor shooting in coach Rick Carlisle's flow offense quickly manifested and were never solved. The hope of a 'Playoff Rondo' sighting was crushed after his poor Game 1 performance and the appearance he gave up in Game 2.

The Mavs and Rondo made a mutual decision to part ways the next day, sources told ESPNDallas.com, framing the reasoning as a back injury as a favor to try to help the four-time All-Star point guard save face.

The truth was that the Mavs didn't want Rondo, who was going to be replaced in the starting lineup regardless, pouting and rubbing off on other players, Ellis in particular. Essentially, the Mavs made a drastic move in an attempt to do damage control on a chemistry crisis.
Even still, Dallas head coach Rick Carlisle expected Rondo to at least draw some significant interest during the summer.
"But here's the other fact: This is a guy that's going to have a lot of free-agent options in the summer," Carlisle said back in April on The Afternoon Show with Cowlishaw and Mosley, as relayed by the Dallas Morning News. "If we wanted to get him back, we were going to be bidding against multiple other teams with a lot of cap space, and there's going to be a big market for him."
But there wasn't.
And that's how we arrived here.
Here being where no team but the Kings, barring a token phone call from the Los Angeles Lakers, according to ESPN's Ramona Shelburne, seemed to express interest in the services of a man who once appeared to be tracking toward a coveted spot in the Hall of Fame. Here being where a four-time All-Star and a two-time assist leader had to take a one-year deal with the apparently dysfunctional Kings just so he could attempt to resurrect his career. Here being where a 29-year-old household name is now making just a bit more in 2015-16 than Al-Farouq Aminu (four years, $30 million) and Corey Brewer (three years, $24 million, per Yahoo Sports' Adrian Wojnarowski) while boasting the same average annual value as Iman Shumpert (four years, $40 million).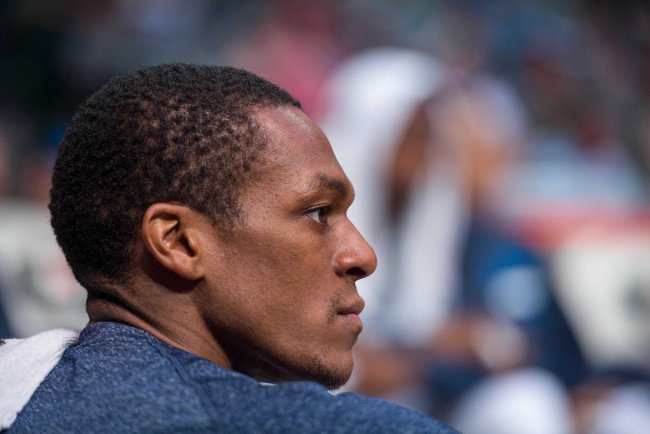 Jerome Miron-USA TODAY Sports
Why would a team be willing to make a larger commitment to such a flimsy and uncertain commodity?
Rondo is now coming off a season that ended with burned bridges and per-game averages of 8.9 points, 5.5 rebounds and 7.9 assists. He shot just 42.6 percent from the field and 39.7 percent from the charity stripe while earning a 13.5 player efficiency rating—the worst mark since his rookie season.
But still, we can cue that immortal clip from Dumb and Dumber, because he's being given another chance.
So long as there's a chance that he starts to polish off the rust and show flashes of his old self, it's impossible to completely rule out the return of vintage Rondo.

The point guard has never been the same since tearing his ACL against the Atlanta Hawks back in 2013, but he's also been the victim of numerous unfortunate situations. It's actually possible to make valid excuses for him during each subsequent campaign, even if they might not add up to a free pass:
2013-14: Rondo returned halfway through the year and was only able to play in 30 games, making it tough to gain the chemistry his game is so heavily reliant upon.
2014-15 (Boston): He was tasked with carrying a young, inexperienced team, when he's far more comfortable serving as a lesser offensive option and making everyone else look good.
2014-15 (Dallas): He was added midway through the year to an offense operating at historic levels while boasting other players who needed to dominate the ball.
For the first time in a long while, Rondo will have the chance to develop chemistry with his new teammates before games actually begin to count. He's going to a situation of his choosing and playing with friends (DeMarcus Cousins and Rudy Gay).
Hell, the Kings even made a signing based on what they could do for Rondo, per Spears.
Oh, and he's healthy.
That "back injury" should have healed up already, and that affords him the luxury of actually participating in training camp and suiting up during the preseason, both of which he should absolutely do while trying to prove himself once more and simultaneously repair his image.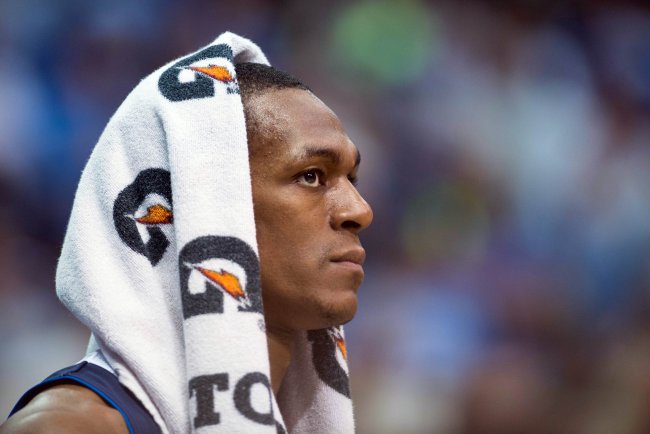 Jerome Miron-USA TODAY Sports
Rondo knows that it's now or never. He has to, or else he never would have accepted such a small contract this early on in the free-agency period while failing to lock himself into a long-term deal. In fact, he's the one who wanted to sign a one-year contract, as Spears tweeted:
Rajon Rondo is taking one-year deal with Kings with expectation to cash in on major raise in salaries with TV deal next summer, source said.

— Marc J. Spears (@SpearsNBAYahoo) July 3, 2015
But to cash in, Rondo has to make positive things happen on the court. He must get rid of his yips at the free-throw line and help the Kings overcome their many off-court and front-office obstacles by thriving on the court.
Lest we forget, his passing is certainly capable of making the many offensive talents on the Sacramento roster look a lot better.
In some ways, the negativity swirling around this Californian organization could end up being a good thing for the floor general. If he's able to change the general vibe surrounding the franchise by getting rid of the toxic reputation he earned in Dallas and promoting winning basketball, plenty more teams will be willing to give him an even bigger contract next offseason. Of course, he could also just re-up with Sacramento and guarantee his financial future.
Will Rondo resurrect his career in Sacramento?
Submit Vote vote to see results
Will Rondo resurrect his career in Sacramento?
Even with Darren Collison still in town, the Kings will hand over the reins to Rondo, giving him an opportunity to prove he's still an upper-tier point guard unless he shows otherwise in definitive fashion. The two can certainly play together and should form a solid defensive tandem in the backcourt, but Rondo will also benefit from the scoring talents of Gay and Cousins.
Strange as it may seem, given the widespread feelings about Sacramento in recent days and weeks, this is actually a good situation for Rondo, if for no other reason than the great opportunity to resurrect his career.
It's one he simply can't afford to squander.
Note: All stats, unless otherwise indicated, come from Basketball-Reference.com.
Adam Fromal covers the NBA for Bleacher Report. Follow him on Twitter: @fromal09.